Lladro, the famous porcelain figurine company, is my favorite in this category in terms of high quality and unique designs. Being a fan of this company's works, when I heard Angeles Lladro, the Vice President of Lladro was coming to Istanbul, I did not lose any minute and scheduled an interview with her. Actually, this interview took place a few months ago, but as my iphone memory crashed, I could not reach the voice recording files for months and that is why I couldn't published this article earlier. Anyway, now it is all fine and I hope you enjoy the interview :)
Dünyaca ünlü porselen heykel ve biblo üreticisi Lladro'yu bilmeyen yoktur sanırım. Ben bu firmanın ürünlerine ayrı bir sempati besliyorum. Tasarımlarına ve kalitesine olan hayranlığım sebebiyle Angeles Lladro'nun İstanbul'a geldiğini duyar duymaz kendisi ile röportaj yapıp, firmayı sizlere daha yakından tanıtmak istedim. Aslında bu röportajı yapalı birkaç ay oluyor ancak, yaptığım sesli kayıt, çöken iphone hafızasında olduğu ve içindeki verilere kavuşmam uzun bir süre aldığı için, bu güzel sohbeti ancak yayınlayabiliyorum. Umarım keyif alırsınız :)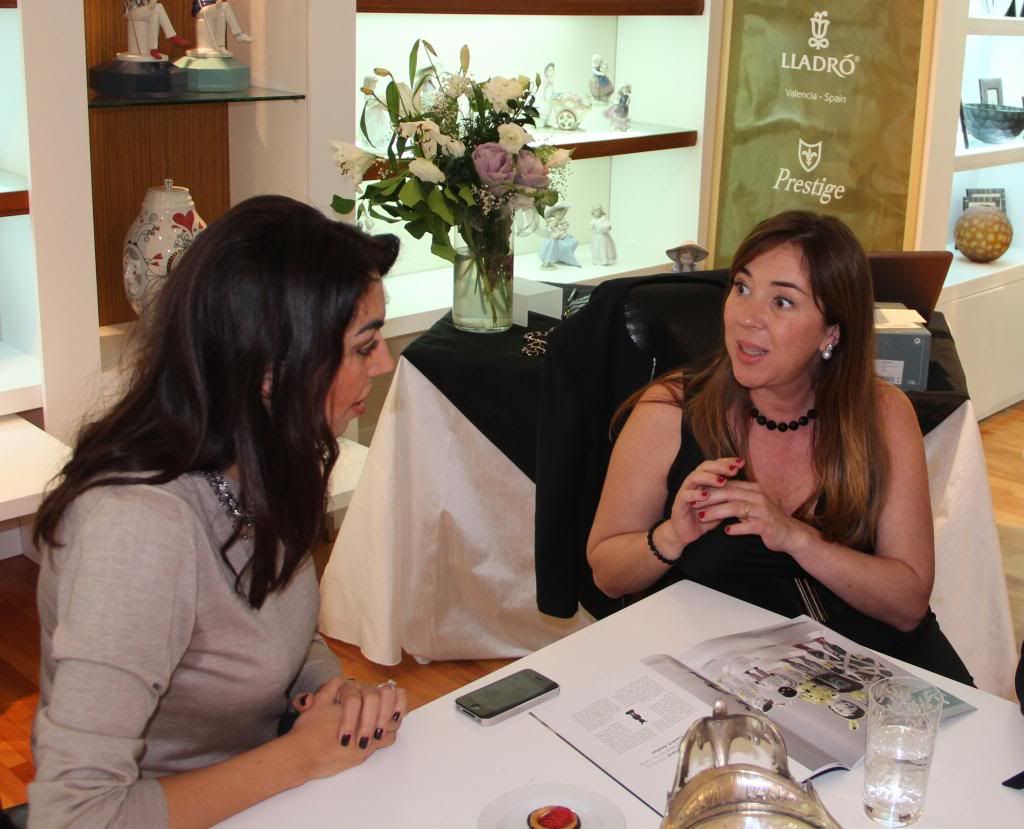 Angeles Lladro is the 2nd generation in their family business along with her sister who is the President of the company. The production is located near Valencia in Spain, and even though they are a worldwide known brand, they still produce at one location. This sounds very wise since their work requires perfection in knowledge and execution.
Angeles Lladro, şirkette kız kardeşi ile birlikte ailenin 2.nesil temsilcisi. Üretimleri İspanya'nın Valencia'nın kentine çok yakın bir mesafede. Dünya çapında bir firma olmalarına rağmen hala sadece tek üretim yerine sahipler. Bunun sebebini tahmin etmek güç değil. Yaptıkları iş özel bir bilgi ve becerinin ürünü, bu başarıyı farklı üretim noktalarında bulabilmek ve devamlılığı sağlamak kolay olmazdı.
- Your designs are very unique and we see different concepts in addition to the classic pieces. How do you launch a new design? /
Tasarımlarınız çok özel ve klasik modellerden modern tasarımlara oldukça farklı çizgilere sahip. Yeni bir tasarım nasıl oluşuyor?
- We have a committee of creativity. Myself, my sister and my father are in the committee along with the artists working in the company. We evaluate the ideas coming from the studios or sometimes, we get inspiration and present this to the artists and that is how we reach to the final designs. We also make collaborations with famous artists like Jaime Hayon or like the famous Japanese studio Devilrobots.
Bizim bir komitemiz var, yaratıcılık üzerine... Ben, babam, şirketin başkanı olan kız kardeşim ve şirketimizde çalışan sanatçılardan oluşan bu komite, çeşitli fikirlerin üretilmesini destekliyor ve çıkan fikirleri değerlendiriyor. Ayrıca işbirliği yaptığımız dünyaca ünlü sanatçılar da mevcut, Jaime Hayon, Japon stüdyosu Devilrobots gibi...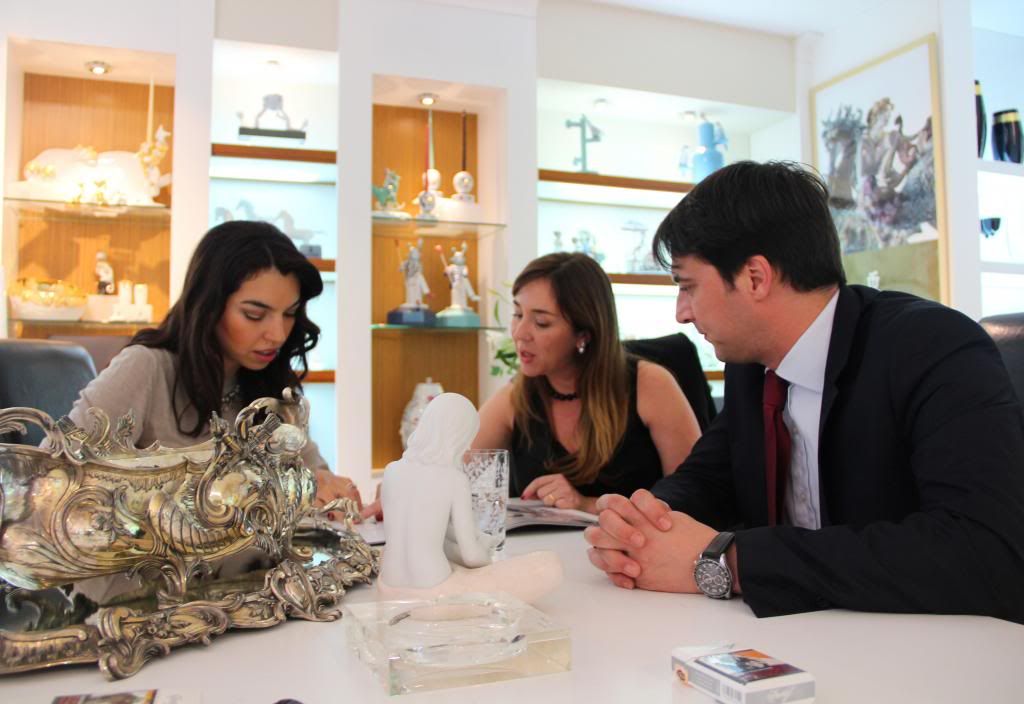 - In addition to the gorgeous figurines, I know that you also started producing table lamps and chandeliers.
Biblo ve heykel ile birlikte avize ve lamba üretimine de başladınız.
- Yes, we like seeing our creativity in different products. We travel a lot and we like getting close to different cultures. Mixing beauty, feelings with symbology explains our work in Lladro. We are very happy with the lighting part of our business. We also produce tableware and the main reason we extend our variety is because we know how to work with porcelain which is a very difficult area.
Evet, yaratıcılığımızı ve porselen bilgimizi birçok farklı dalda kullanmak istiyoruz, bu sebeple biblolar dışında lamba, avize ve tabak gibi alanlarda da çalışmalar sunuyoruz.
- As you said, I know that it is very difficult to work with porcelain and it takes a very long time to produce even one small piece. /
Porselen ile bu heykelleri yapmak çok zor bir süreç değil mi?
- Yes, people sometimes ask us if there is one mould for one sculpture. And the answer is no! We have different mould for different parts of the figure. For each finger, for the arms etc... It is very important to assemble the body parts of the sclupture since after attaching them, they face heat and the sculpture shrinks under heat. If one tiny piece is attached wrongly, it explodes and all the job is lost. For example, it took 6 years to develop the master of our famous sculpture 'Queen of the Nile' and then 2 months to make the product.
Evet, bazen bize soruyorlar; her ürün için ayrı kalıbınız mı var? diye. Cevap; her parça için ayrı kalıbımız var oluyor. Her bir parmak, her bir kol, kulak vs hepsi ayrı kalıplara sahip. Porselende en önemli şey bu parçaları birleştirirken hata yapmamak. Bu parçalar birleştikten sonra ısıya maruz bırakılıyor ve bu esnada porselen çekiyor. Eğer hatalı birleşen bir parça varsa o kalıp kullanılamaz hale geliyor. Örneğin meşhur 'Queen of the Nile' heykelimizin masterını yapmak 6 yıl sürdü. Bu urunden bir adet yapılması ise 2 ay sürüyor.
Queen of the Nile
- I also notice that while keeping your classic collections, you also have a wide range of products in modern design. Why is that? /
Klasik modellerin yanı sıra modern koleksiyonlara da sahip Lladro. Bunun sebebi nedir?
- Most of our designers are young and they want to create what they feel. We really support this since it is also taking us to different areas also. /
Tasarımcılarımızın çoğu genç ve hissettiklerini tasarlamak istiyorlar. Biz de onları bu konuda destekliyoruz.
- How is the competition in your sector?
- There is competition in the sector but being the leader in the world in this field, we do not suffer from the competition. We trust in our creativity power and that's why we feel comfortable.
- What do you think of Turkish market? /
Türkiye pazarı ile ilgili görüşlerinizi öğrenebilir miyiz?
- It is a very good market, not as big as the USA market but you have a strong art tradition in Turkey. So the people who are interested in art know the best design and quality and we like having such customers. Your country is also great for getting inspiration for design so I know I will come back soon with more time to see more about the beautiful Istanbul.
Amerika pazarı gibi çok büyük bir pazar olduğunu söyleyemem ancak Türkiye'de çok sağlam bir sanat geleneği mevcut. Bu sebeple, sanattan anlayanlar gerçekten kaliteyi ve güçlü tasarımları hemen anlayabiliyor. Ayrıca ülkeniz ilham almak için de muazzam. Bu sebeple, en kısa zamanda İstanbul'a tekrar gelmeyi planlıyorum.
- Finally, congratulations for the 60th anniversary of Lladro and thank you so much for this lovely interview. /
Son olarak Lladro'nun 60.yılını kutlarım. Bu güzel sohbet için çok teşekkürler.
- Thank you so much! /
Teşekkürler!