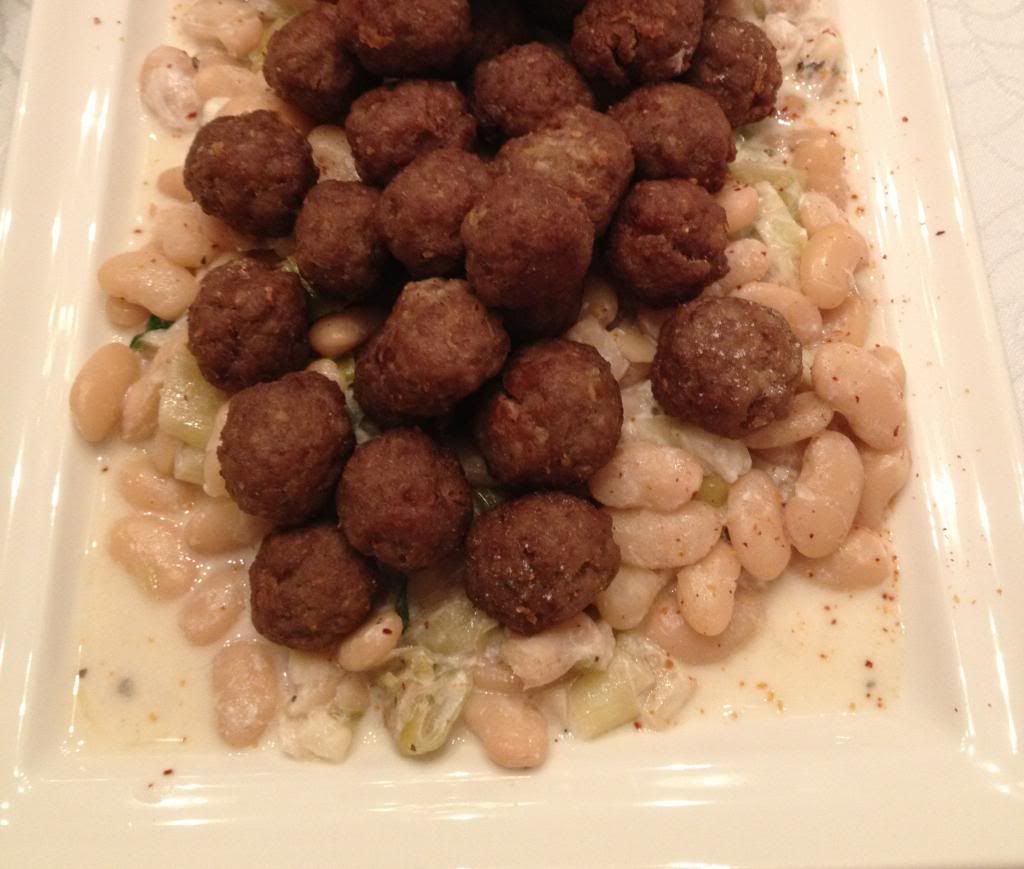 Geçen hafta, doğumgünü için pişirdiğim yemekleri paylaştığım yazimda, herkesin merak ettiği yemek, köfteleri sunmak için hazırladığım fasulye ve pırasalı yatak idi. Ben de sizler için bu yemeği tekrar pişirdim ve yapılış aşamalarını fotoğrafladım. Şimdiden afiyet olsun :)
Last week, when I published what I cooked for the birthday, everyone asked for the recipe of the bed of beans&leek under the meatballs. That's why, I cooked it again and sharing the recipe in this post...
Kuru fasulyeyi isterseniz bir gece onceden ıslatın, ben aynı gün 1 saat öncesi kaynattım. Fasulyeler pişene kadar suda pişirin.
If you are using dry beans like I did, cook them in boiling water for at least 1 hour.
Pırasaları resimde gördüğünüz gibi doğrayıp, zeytinyağı ve doğranmış sarımsak ile birlikte kısık ateşte soteleyin. Pırasalar yumuşayınca biraz beyaz şarap(1 küçük su bardağı) ekleyip ocağın altını açın. Eğer alkol kullanmak istemezseniz çok az üzüm sirkesi koyun şarap yerine. (1 yemek kaşığı)
Sweat the leeks with sliced garlic and olive oil.(and thyme if you like) Then turn up the heat and add a small glass of white wine.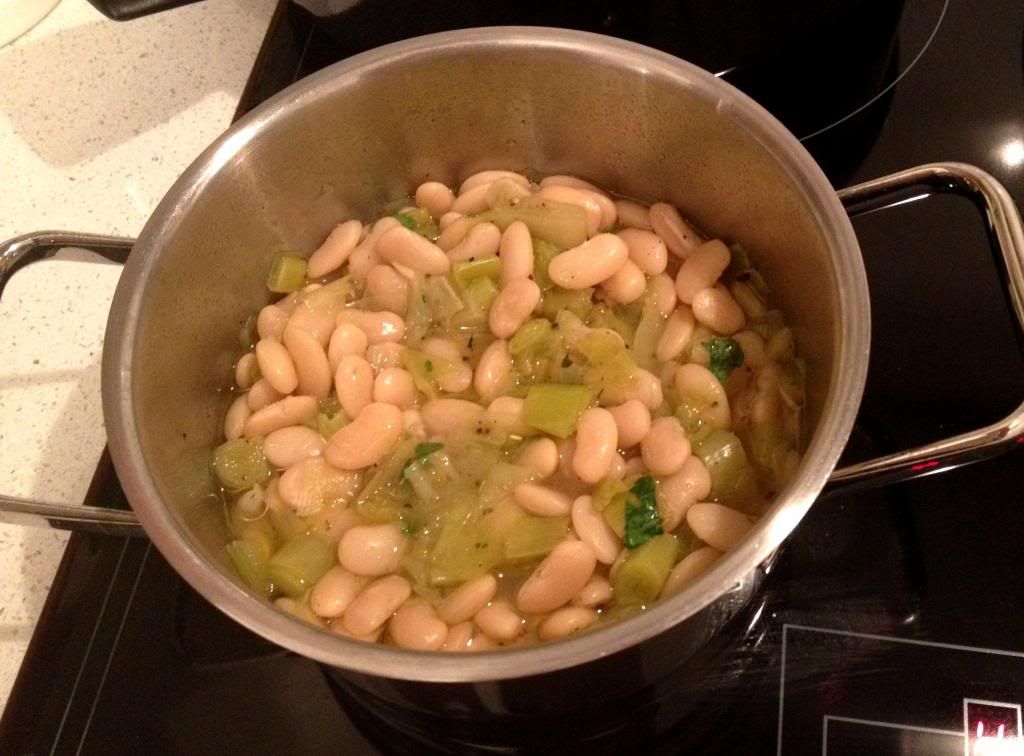 Daha sonra fasulyeleri pırasaya ekleyip, fasulyelerin çok az üstüne çıkacak kadar su ekliyoruz ve orta ateşte pişmeye bırakıyoruz. Suyunu biraz çektikten sonra hafif zeytinyağı gezdirip doğranmış maydanoz ekliyoruz.
Add the beans to the leeks and cover them with hot water. Let them cook for a while then add chopped parsley and some olive oil.
Son olarak yemeğimize yoğurt ekliyoruz. Yemek yapma konusunda tecrübeli olanlar bilir, süt ürünlerini yemeğe eklerken biraz dikkatli olmak gerek. Ben tencereye eklerken önce yemeğin suyundan biraz alıp yoğurda ekliyorum, sonra bu karışımı tencereye ekliyorum. Bu şekilde yoğurt kesilmiyor.
Finally, we are adding yoghurt(plain) and mix them well.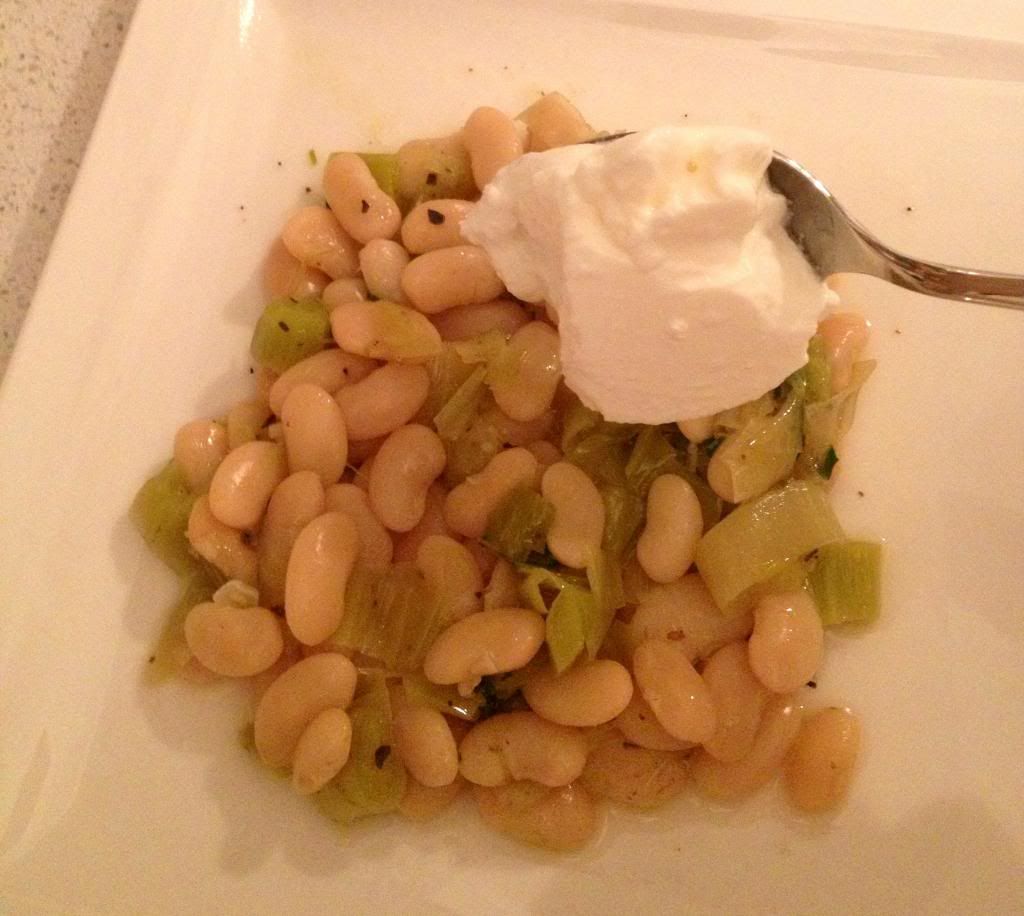 Yoğurdu sonra eklemek istiyorum diyenlerdenseniz, yemeğin biraz ılımasını veya yoğurdu krema gibi karıştırmadan, sadece üstüne eklemenizi tavsiye ederim.
Bu yemeği, ister kendi başına bir öğün olarak, isterseniz ızgara et veya köftelere yatak olarak kullanabilirsiniz.
Serve the creamy beans with grilled beef or meatballs. Enjoy!